WongPartnership Chairman and Senior Partner Alvin Yeo SC Receives Prestigious Chambers Outstanding Contribution Award
25 Mar 2017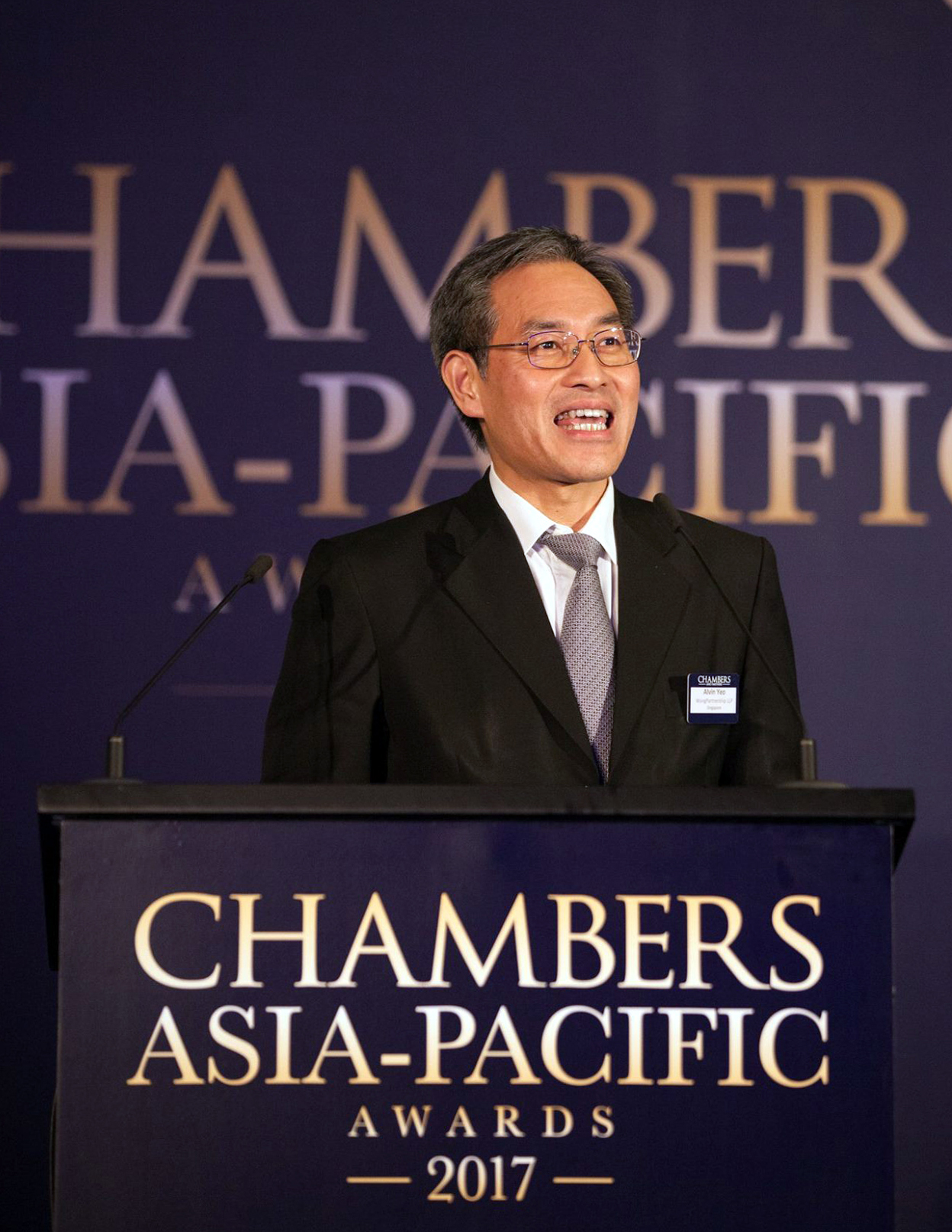 25 March 2017 - WongPartnership's Chairman and Senior Partner, Mr Alvin Yeo, SC, has been honoured with the "Outstanding Contribution to the Legal Profession" Award at the Chambers Asia-Pacific 2017 awards. The prestigious award is given to only two recipients each year in recognition of their exceptional work in their respective fields, continued contribution to the Asian legal arena and those who "have had a significant and lasting impact on their market and who are outstanding lawyers in their own areas of practice".
Mr Yeo is Singapore's foremost arbitration counsel in the field of investor-state disputes and international commercial arbitration; he has acted for and advised international clients in complex, cross-border disputes and multi-jurisdictional enforcement proceedings. His extensive experience also covers financial disputes, contentious investigations, insolvency and restructuring, and financial services regulatory matters, including corporate fraud, anti-money laundering and insider trading.
Chambers Asia-Pacific lauded Mr Yeo for providing "leadership on SIAC and ICC proceedings" and is "an excellent strategist as well as a first-rate litigator" who is "deeply impressive and [an] extremely capable individual". Chambers Global describes Mr Yeo as "the most impressive, as an advocate, out of all the Singapore firms". Clients single Alvin out for his exceptionally smooth and polished advocacy, as well as his sound strategic advice.
Mr Yeo said: "I am deeply honoured to receive this award. This would not have been possible without the unwavering support of our clients and my colleagues over the past 25 years. WongPartnership is celebrating its silver jubilee this year, so this is a fitting testament to the growth and success of WongPartnership in the Asia-Pacific legal landscape."
He is recognised as a leading litigation and arbitration counsel in international legal directories such as The Legal 500: Asia Pacific, IFLR1000, Chambers Global and Chambers Asia-Pacific. He is also acknowledged by Expert Guides: Best of the Best 2017 as one of the world's Top 30 Commercial Arbitration practitioners.
Mr Yeo was admitted to the Singapore Bar in 1988. Twelve years later, at the age of 37, he became the youngest lawyer to be appointed as Senior Counsel in Singapore, a record that remains unbroken to this day. His career spans the growth of Singapore as an international arbitration centre, having been a pioneer in the arbitration practice in Singapore.
Mr Yeo has led many landmark cases; he defeated an ICSID claim brought against the Independent State of Papua New Guinea for expropriation of the shares in a mining company with more than $1.5 billion in assets – WongPartnership was the first Singapore law firm as sole counsel on record in an ICSID arbitration. Mr Yeo has also secured a ground-breaking victory for foreign investors against Laos PDR related to investment treaty claims valued at over US$800 million arising from the misappropriation of gaming investments, and is acting for investors against the Kingdom of Lesotho's application to set aside an investment treaty award finding the State liable for denial of justice.
Mr Yeo is also a philanthropist; he founded the Singapore Scholarship Fund at King's College London, his alma mater, in 2013. The scholarship – which has a value of up to £20,000 – helps to support Singapore students who are in need of financial assistance to undertake undergraduate or postgraduate programmes at King's College London at the faculties of Law, Natural & Mathematical Sciences, Arts & Humanities and Social Science & Public Policy.
The Chambers Asia-Pacific guide is one of the largest and most distinguished legal ranking publications in the world. It is well reputed for its research rigour and editorial independence. The global guide ranks law firms and individual lawyers in various practice areas. The criteria for rankings include technical legal ability and commercial astuteness. Client feedback is one of the key determinant factors in the rankings.